NLA Game 30, Sep. 18, 10
1
2
3
4
5
6
7
8
9
R
H
E
Challengers
0
1
0
3
0
0
0
1
0
5
10
3
Flyers
0
6
1
0
0
7
0
0
x
14
12
1
W: Blackbee, C. L: Maier, P.
Flyers outslug Challengers 14-5 to even Series at 1-1
The Therwil Flyers came out determined to even the Playoff Semifinals Series after having dropped Game 1 6-5 in the final inning last Sunday.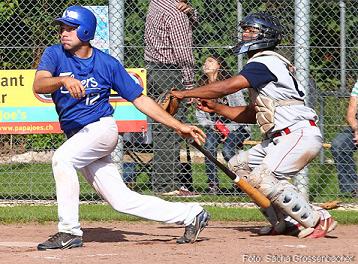 Michel LaTorre
They did so by using their big bats, winning easily 14-5.
JB Tucker and Daniel Eichenberger both went yard, finishing a combined 5-for-9 with six RBI's, and Chris Blackbee kept the Challengers in check by scattering 10 hits and allowing five runs, while also striking out four.
Challengers spot starter
Patrick Maier
didn't survive the second inning, surrendering five walks in the first and second innings which led to three runs.
Brian Hipps
relieved Maier in the second with the bases loaded and no outs, and promptly walked the first two batters. Tucker and Eichenberger followed with a homer and a triple which gave the Flyers a 6-1 lead.
The Challengers rallied in the top of the fourth on
Chris Palatinus
' sacrifice fly and
Ueli von Burg
's two-run double to cut the lead to 7-4.
But Blackbee would allow only two more base runners as far as third base, with
Jesus Martinez
scoring the Challengers' final run on
Jay Casimiro
's sacrifice fly in the eighth inning.
The Flyers scored seven runs in the sixth inning off reliever
Tobias Siegrist
. JB Tucker led off with a double to straight center, and Eichenberger plated him with a deep fly over the center field fence.
Two walks, two throwing errors and three hits later, the Flyers had extended their lead to 10 runs.
Thomas Burger
pitched the final 1 2-3 innings, making his first appearance since
August 18
.
Game 3 will be played in Therwil on September 25, followed by Game 4 at the Heerenschürli the next day at 5pm.