NLA Spiel 12, Jun. 23, 12
1
2
3
4
5
6
7
8
9
R
H
E
Challengers
1
0
0
3
0
0
0
0
2
6
6
4
Barracudas
1
0
0
1
1
1
0
0
0
4
13
3
W: Girasole, A. L: Montag, B. S: Siegrist, T.
Challengers sneak by Barracudas 6-4
Outhitting an opponent 13-6 usually is enough to win a ballgame. But not in Saturday's night game between the Challengers and Zurich Barracudas as the Challengers profited from two costly errors in a 6-4 win.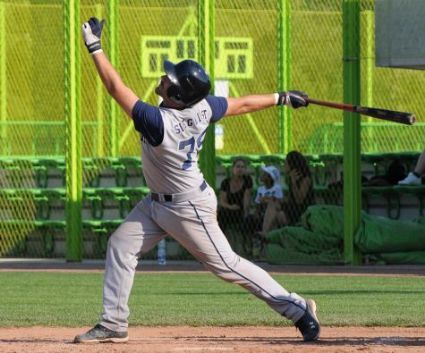 Siegrist hit the Challengers' only extra-base hit, a double in the eighth inning.
Three different Barracuda players each had three hits (Colindres, Rüesch and Dan Rogers), while none of the Challengers had more than one. Five of the Barracudas' hits went for two bases while
Tobias Siegrist
was the only Challenger with an extra-base hit, a leadoff double in the eighth.
Andrea Girasole
went eight innings for the win, setting season-highs for fewest walks (0) and most hits allowed (13), while also striking out five.
With his five wins, he's tied for second place for most wins in the league, one behind Roger Savoldelli's six.
With the game tied 1-1 in the top of the fourth, the Challengers scored three runs for a 4-1 lead. Two of those runs came on second baseman Marc Schnider's throwing error to first with two outs, allowing
Bryan Shemley
to score from third and
Stephan Pribitzer
to come around from second base.
The Barracudas then chipped away, and scored one run each in the fourth, fifth and sixth innings to knot the score at 4-4 after six frames.
Some great defensive plays by the Challengers prevented the Barracudas to score more. Dan Rogers was cut down at third base as Nderim Coma singled to right, and
Fabio Aimi
relayed the ball to second baseman Rob Sedin who fired a strike to third baseman
Thomas Burger
for a big out.
After no scores in the seventh and eighth innings - and yet another 9-4-5 play - and with the score still tied at 4-4, the Challengers got two runners in scoring position with one out in the top of the ninth.
With two outs, substitute
Luigi Cinardi
then hit a chopper to the third baseman
Francisco Colindres
, whose throw to first sailed wide and enabled both Bregy and Pribitzer to score for a 6-4 lead.
In the bottom of the ninth, Siegrist took over on the mound and struck out two of the three batters he faced for his first save of the season.
Game notes
Siegrist became the third Challenger this season to record a save. The others are Sedin and Burger. ...Shemley's pop out in the second inning was his 750th plate appearance in the NLA.