NLA Spiel 2, May 10, 98
1
2
3
4
5
6
7
R
H
E
Rainbows
0
0
3
0
3
0
0
6
2
6
Challengers
7
4
1
0
11
2
x
25
21
4
W: Benitez L: Height
Challengers 25, Rainbows 6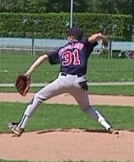 Patrick Bosshard>
Patrick Bosshard pitched three innings and allowed the Rainbows' only two hits.
---
Patrick Bosshard combined with four relievers on a two-hitter as the Challengers dominated the Embrach Rainbows in Game 2 of Sunday's doubleheader 25-6.
As in Game 1, the Challengers put together 21 hits and scored 25 times.
They blew a relatively close game open in the fifth inning as they sent 16 batters to the plate.
The first 9 of them scored and
Chris Palatinus
as the tenth batter of the inning was the first victim as he had a run-scoring groundout to the second baseman.
The Rainbows' defense committed just six errors - at least five less than in the first game -, but weren't able to profit from Bosshard's wildness.
Rainbows starter Height lasted just three innings.
---
Bosshard struggled in the third inning as he walked four batters in a row, but managed to retire the side on a groundout and two fielder's choices to third baseman
Anubis Benitez
and shortstop
Saentis Zeller
.
Benitez (1-0) relieved Bosshard at the beginning of the fourth inning and retired all three batters he faced for his first victory in a Challengers uniform.
Next,
Nick Lehmann
got a chance to pitch and Benitez had his first game behind the dish for the Challengers.
Lehmann quickly gave up two walks to start the fifth inning, and both baserunners eventually scored on an error (a throwing error by Lehmann himself) and a passed ball by Benitez. The Rainbows also scored a third run in that inning on a run-scoring groundout by Height to trim the Challengers' lead to 11-6.
But in the bottom of the fifth, the Challengers scored 11 times. Zeller was the only batter though who had two hits in that inning.
Gary Kochlefl
and
Jose Valdez
pitched one inning apiece, both allowing no runs to score.
Game 2 lasted just 2:40, 10 minutes longer than the first game, although the two teams combined on 23 hits, 14 walks and 10 errors.