NLA Spiel 18, Sep. 02, 06
1
2
3
4
5
6
7
R
H
E
Cardinals
0
1
0
3
1
1
0
6
5
1
Challengers
4
1
0
2
1
0
x
8
7
3
W: Ureña, G. L: Baum
Landis gets 1000th K in Playoff clincher against Cards
Thomas Landis
set a milestone that could stand a long time in Swiss baseball history, and also helped his team to reach the postseason for the 11th consecutive time.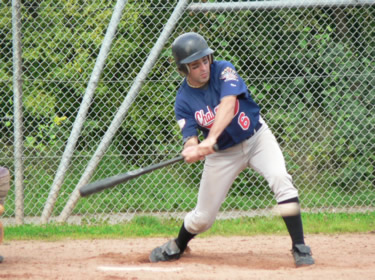 Bregy reached three times on three walks.
Landis struck out Tobias Imboden in the bottom of the second inning to give him 1'000 strikeouts in his long career.
But that record was only second nature to what was more important for the team that day: to qualify for the Playoffs.
But Landis' offense made sure that there would be no doubt about that from the start of the game.
They roughed up John Baum for four earned runs in the first frame. Before that, Baum didn't allow an earned run in 29 innings this season.
The Cardinals scored one in the second inning on Tinu Gygax' run-scoring fielder's choice, but the Challengers got that run back on Landis' RBI-single.
The Cards managed to get within one run in the fourth frame as they scored three times off Landis, but two runs in the bottom half of the inning gave the Challengers a comfortable three-run cushion.
Geovanni Ureña
relieved Landis in the fifth inning with two outs. Umpire Urs Köstinger wasn't very generous with Ureña's moves and fined him twice with a balk call, leading to yet another Cardinal run.
Ureña allowed one more run in the sixth frame, and led off the seventh inning by walking Christoph Beyeler, which led player coach
Anthony Bennett
to bring himself into the game to close things out.
And he did just that by allowing just one more hit-by-pitch and a walk before retiring Vitus Huber and Sandro Negro for his first save of the season in the Challengers' 8-6 win.
Game notes
Landis needed 960 1-3 innings to get to the 1'000 strikeout-mark for a ratio of 9.37 K's per 9 innings.
Benny Räber
is second on the alltime list with 373 punchouts. ...
Tobias Siegrist
scored his 200th career NLA-run as he crossed the plate in the first inning on Oli Labhart's two-run single. ...
Saentis Zeller
passed
Jose Valdez
for sixth place on the all-time list for runs scored by crossing the plate for the 235th time in the first inning. ...Oli Labhart set a new career-high by collecting three RBI's.