NLA Spiel 4, May 04, 13
1
2
3
4
5
6
7
8
9
R
H
E
Challengers
0
0
0
1
0
0
0
0
1
2
7
2
Eagles
0
0
0
0
0
3
1
0
x
4
6
3
W: Chapman, J. L: Sedin, R.
Challengers find no recipe against Chapman, lose 4-2
James Chapman and the Lucerne Eagles upset the Challengers 4-2 in Game 2 of Saturday's doubleheader in Reussbühl.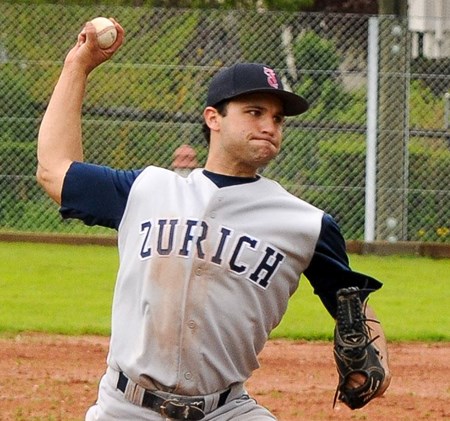 Sedin tossed five brilliant innings before struggling in the sixth.
Chapman threw all nine innings in which he gave up two runs - one of them unearned - on seven hits and no walks while also striking out three.
He evened his record to 1-1 and lowered his ERA to 2.81 in the process.
Outhit 7-6 by the Challengers, the Eagles nevertheless found a way against starter
Robert Sedin
to string together four runs.
The Challengers went ahead in the top of the fourth inning on a perfectly executed squeeze bunt by
Bryan Shemley
that scored
Jesus Martinez
from third.
Martinez earlier reached on a throwing error by shortstop Alex Cruz Tifa and reached third on a bloop double by
Thomas Blank
.
That was all the Challengers could muster against Chapman in the first couple of innings.
Robert Sedin was even better, putting up zero after zero on the board for the first five innings. Two singles was all he allowed to the first 18 batters.
But all of a sudden, things fell apart as Sedin surrendered back-to-back walks to
Yanik Probst
and Chapman in the sixth inning. After striking out Cruz for the second out of the inning, Marco Limacher, Junior Del Rosario and Rene Plüss followed with three consecutive RBI-singles to put the Eagles ahead 3-1.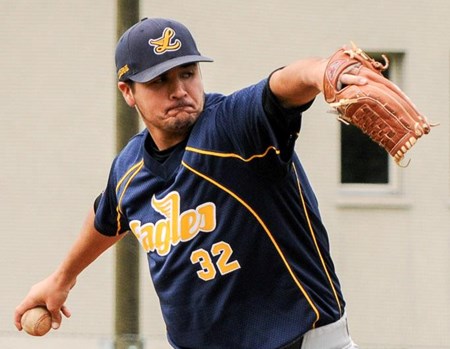 James Chapman picked up the win with his complete-game effort.
The Eagles added another unearned run in the next frame as shortstop
Eidrys Reyes
couldn't handle Kilian Elsasser's grounder, and later came around on Oli Holenstein's single to opposite right field.
The Challengers meanwhile could only put on two baserunners from the fifth through eighth innning before again making it interesting in the final frame.
Tobias Siegrist
led off with his second double of the season, and later scored on Chico Colindres' RBI-single.
With runners at third and second and two outs, Aimi was called up from the bench to pinch-hit. He lined a drive into right field where the ball was caught by a perfectly positioned Rene Plüss for the final out.
Game notes
Sedin's 14 strikeouts are the second-most in Challengers history, only trailing his own mark of 15 set last year against the Zurich Barracudas on
June 26
and the Bern Cardinals on
September 2
. ...After going 4-0 against the Eagles in 2012, the Challengers have lost against them for the first time since
September 4, 2011
. ...Siegrist is hitting .533, his highest mark at the end of a game since
April 24, 2010
when he hit .538.