NLA Game 33, Sep. 19, 09
1
2
3
4
5
6
7
8
9
10
11
R
H
E
Challengers
0
0
0
0
3
0
0
3
0
0
0
6
13
2
Flyers
0
5
0
0
0
0
0
0
1
0
1
7
11
1
W: Kaufmann L: Siegrist, T.
Flyers end Challengers' season with 7-6 win in extra innings
With another game going into extra-inning, this Series will go down as a Classic in Swiss baseball history.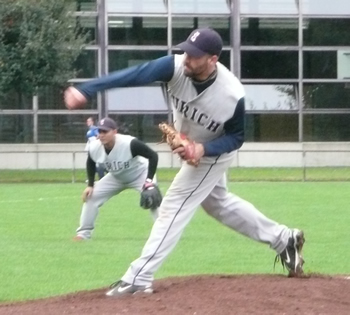 Siegrist pitched a career-high 10 1-3 innings.
After an epic 11-inning battle in Game 4 that tied the Series at 2 apiece, the two teams got together for the winner-takes-it-all fifth game in Therwil.
The Flyers started tough, again, and racked up five runs against starter
Tobias Siegrist
in the second inning, but the Challengers rallied and took the lead with three runs in the fifth and eighth innings.
But they couldn't seal the lead as Reto Siegel's sacrifice fly to left in the ninth inning tied the game, sending the game into extra innings. There, in the bottom of the 11th, Seppi Zwyer's RBI-single sent Matthias Jung racing home with the Series winner.
Siegrist ended up pitching a complete game with 10 1-3 innings, topping his career-high of 7 1-3 innings set just a month ago.
While Jung was the only Flyer with three hits, the Challengers had two players going 3-for-5 (
Yonimiler Martinez
and
Angel Maduro
), outhitting the Flyers 13-11.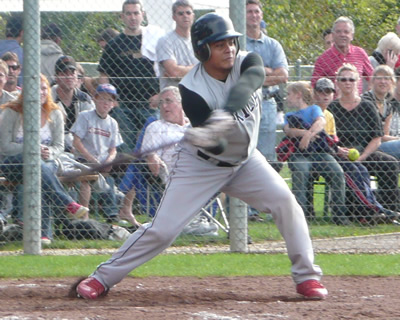 Martinez collected a career-high three hits in five at-bats.
But one error more was the decider. With one out in the bottom of the ninth, shortstop
Ueli von Burg
threw away Takanobu Oshima's grounder, enabling Jung to reach third, where he would eventually go on to score on Siegel's sac fly.
And with runners in scoring position, the Flyers were more efficient, going a combined 4-for-7, while the Challengers managed to get just five hits in 12 opportunities with runners in scoring position.
Game and season notes
James Sanders
set a new Challengers record by posting a 2.29 ERA on the season. ...
Thomas Blank
collected his 100th hit in the NLA as he doubled off Croton in the fifth inning. ...The team's 175 strikeouts is the third-highest total in team's history. ...The 314 hits allowed by the pitching staff ties the franchise record set in 1999. ...The 16 season losses set a new season record for a Challengers team.