NLA Spiel 1, Apr. 21, 07
1
2
3
4
5
6
7
R
H
E
Challengers
1
1
1
0
0
0
1
4
6
5
Cardinals
5
1
0
3
0
3
2
14
16
2
W: Beyeler L: Burger, Th.
Challengers outhit, go down in mercy
There will be a lot of work for arriving headcoach
Andy Fleischacker
, and everywhere he looks, too.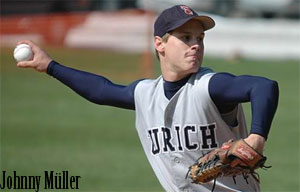 Burger went the distance, but it wasn't enough.
The Challengers' season-opener featured an insecure defense, not more than solid pitching and a dissappointing offense.
Given the fact that the Challengers had to use middle-infielders who never started at their positions last season, and comparing to some of the preparation games the defense fared almost acceptable with 5 errors.
These still led to six unearned runs for starter
Thomas Burger
, who issued three walks and struck out five, but gave up 16 hits, five of them for extra-bases.
So the Cardinals' run-total increased with at least every second inning, as all of Bern's starters had at least one hit.
On the other hand, the Challengers' offense was always silent when needed.
The team went 1-for-15 with RISP,
Thomas Blank
's single just through the infield in the first being the only hit, opposed to the Cardinals who averaged .500 in these situations.
With this poor offense that only scratched a total of six hits off Bern starter Beyeler, the Challengers never even came close to a serious rematch of last years' Semifinals.
Game notes
Thomas Blank started in the 3 slot for the first time in his NLA-career and went 2-for-3. ...
Tobias Siegrist
's double off reliever Imboden in the seventh inning was the only extra-base-hit for Zürich. ...The 16 hits given up by Thomas Burger tied the franchise record set by
Harry Bregy
on
August 3, 2003
against the Therwil Flyers. ...It was the first time in Challengers' history that five Challenger batters were hit by a pitch.