NLA Spiel 10, Jun. 11, 14
1
2
3
4
5
6
7
8
9
R
H
E
Barracudas
1
0
0
0
0
3
0
1
0
5
3
1
Challengers
0
0
1
0
1
0
2
0
0
4
11
4
W: Michals, C. L: Sedin, R.
Barracudas edge Challengers 5-4 on defensive miscues
Robert Sedin
and his teammates took another tough loss, this time a 5-4 defeat against their crosstown rivals Zürich Barracudas.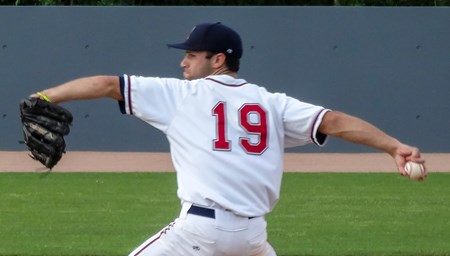 Sedin pitched 7 1-3 effective innings, but his defense let him down.
Sedin allowed only three hits in 7 1-3 innings, but also conceded eight walks and two hit-by-pitches. Plus, his defense committed five errors behind him, making all but one of the five runs he gave up unearned.
The Challengers amassed 11 hits off Chris Michals, but failed most of the time when it counted most, going 2-for-12 with runners in scoring position.
Ryan Byrne
reached safely four times in five plate appearances with two triples, a hit-by-pitch, an intentional walk, plus a sacrifice bunt.
Sedin himself had three hits, including his fifth double of the season, and
Eidrys Reyes
went 2-for-4 to raise his team-leading batting average to .425.
The two teams played to a 1-1 tie through the first four innings as the Barracudas profited from catcher
Bryan Shemley
's passed ball in the first inning which the Challengers tied in the third inning on Reyes' RBI-single.
Reyes' sac fly in the fifth inning gave his team a temporary 2-1 lead, but that lead quickly vaporized in the top of the next inning.
With runners at first and second, shortstop Reyes bobbled Hasson Rogers grounder which would have gotten the force out at third base, but instead, the bases were jammed with nobody out. Pinch hitter Stefan Pribitzer struck out for the first out, but Andi Rüesch came through with a sacrifice fly to tie the game.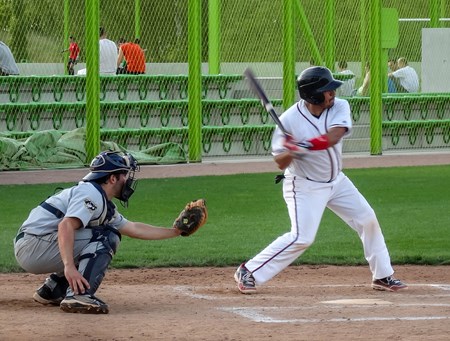 The Challengers and Barracudas fought another good battle.
With first and third now occupied, pinch runner Marc Schnider broke for second, and catcher
Tobias Siegrist
threw down in an attempt to nail him.
Nelson Santana
immediately broke for home and easily scored as second baseman
Thomas Blank
forgot about the situation and held on to the ball.
Harry Wischnewski followed with a bloop single to push across another run, giving his team a 4-2 lead.
The Challengers answered with two runs on their own in the seventh inning. Sedin singled to lead off and Byrne connected for his second triple into the right center field gap.
Siegrist tied the game by hitting a single to opposite field, but Michals retired
Saentis Zeller
on a grounder to first to escape further damage.
The Barrcudas came right back and took the lead for good in the top of the next inning on Wischnewski's 4-3 run-scoring ground out off reliever Byrne.
The Challengers put two runners on base in both the eighth and ninth inning, but failed again to push them across, losing another close game and extending the Barracudas' winning streak to 11.
Game notes
The last and only Challenger to hit two triples in a game was Ueli Von Burg who had two against the Bern Cardinals on
April 24, 2010
. …
Harry Bregy
popped out to shortstop Josh Crouse in the eighth inning in his 800th at-bat in the NLA.