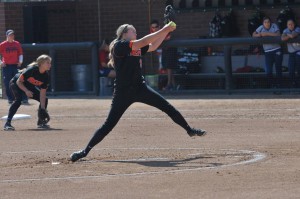 Newly acquired softball pitcher Danielle Bonnet will arrive in Zurich on Wednesday to join the Challengers Softball-Team. The 21-year old right-handed pitcher, who was born in Phoenix, Arizona, played with the Pacific Tigers from the University of the Pacific, California. Bonnet, who graduated in sports medicine, pitched in 101 games, had a 36-44 record with 2 saves and a 4.19 ERA in 454.2 innings pitched with 236 strikeouts in her four years with the Tigers.
Before that Bonnet played with the Mustangs Softball Team for the Sunrise Mountain High School in Peoria, Arizona, where she was the ace in the circle, finishing her senior year with a 18-1 record and a 0.69 ERA. She earned all-state honors in her final year at high school and region player of the year status.
Bonnet will make her debut for the Challengers on Sunday against the Bern Cardinals at Bern.