NLA Spiel 2, Apr. 21, 07
1
2
3
4
5
6
R
H
E
Challengers
0
0
0
0
0
0
0
0
4
Cardinals
4
3
3
5
3
x
18
12
0
W: Baum L: Landis, Th.
Baum servs up perfect gem
After a disastrous 14-4 loss in Game 1 of Saturday's doubleheader, the Challengers were prepared for everything but what really happened in Game 2.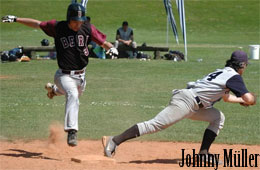 The Cardinals flew all over the Challengers
Cardinals playing coach John Baum turned it up a notch and delivered a masterful perfect game in six innings.
The game was halted due to the 15-run mercy rule after six innings, so the Challengers ended up sending 18 batters to the plate who came back to the dugout with absolutely nothing to show for.
Baum struck out nine and his defense did the rest for him.
His offense was sparked by the first four and the last batter who were a combined 13-for-17 with all 15 RBI's and 11 runs scored.
Challengers' starter
Thomas Landis
lasted only three innings, giving up nine earned runs on eight hits and seven walks, while striking out none.
He was relieved by
Willy Schaub
who didn't fare any better, working only 1 1/3 innings in which he gave up seven earned runs on five hits and six walks.
Game notes
It was the first perfect game against a Challengers team in history. ...The Cardinals scored at least three runs in every inning.