NLA Game 30, Sep. 30, 17
1
2
3
4
5
6
7
8
9
R
H
E
Challengers
0
0
0
1
0
0
0
0
0
1
4
7
Barracudas
2
2
1
0
0
3
0
1
x
9
11
2
W: Rüesch, A. L: Siegrist, T.
Barracudas end Challengers season with 9-1 win in Game 5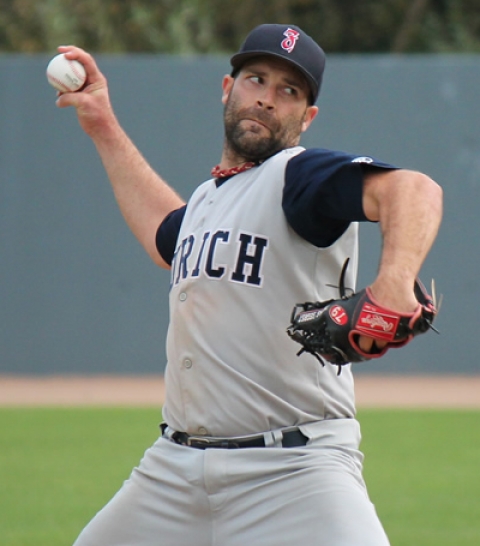 Nach einer bislang ausgeglichenen Serie sind die Challengers im fünften und entscheidenden Spiel nicht auf der Höhe ihrer Aufgabe. Mit vielen Fehlern und einer harmlosen Offensive überlassen sie den Zürich Barracudas gewissermassen den Sieg und damit den Finaleinzug.
Die Partie hatte kaum begonnen, war sie im Grunde auch schon gelaufen. Den Barracudas gelang mit einem glückhaften Hit der Linie entlang schon im ersten Inning eine 2-0 Führung und nach einem haarsträubenden Fehler der Challengers hiess es nach zwei Durchgängen schon 4-0. Im vierten Inning kamen dann auch die Gäste aufs Scoreboard. Nach einem Double von
Robert Sedin
und einem Single von
Tobias Siegrist
brachte
Jesus Martinez
mit einem Sac Fly Sedin nach Hause. Das war aber auch schon alles von der Challengers Offensivabteilung. Anders die Barracudas. Diese räumten mit drei weiteren Runs im sechsten Inning auch die letzten Zweifel aus dem Weg. Letztlich siegten die Barracudas diskussionslos mit 9-1. Damit werden sie ab dem kommenden Samstag gegen die Therwil Flyers um den Titel spielen.
Bei den Challengers erzielte Robert Sedin an seinem 30. Geburtstag drei Doubles und scorte den letzten Run der Challengers in der Saison 2017, während Tobias Siegrist neun Runs, allerdings lediglich vier davon earned, und zehn Hits abgab bei neun Strikeouts und zwei Walks.
Game and season notes
Sedin raked up 67 doubles in his career, tying
Enrico Zingg
for 7th on the Challengers all-time list. He also finished the season with 88 total bases, the most since
Thomas Landis
' 90 in 2003, and his 37 RBI's are the most since Siegrist's 41 ten years ago. ...
Andrea Girasole
's ERA of 8.51 is the worst for any pitcher in Challengers history with at least 60 innings pitched. ...Siegrist pitched in 17 games, and his ERA of 3.33 is just slightly above his career-best of 3.21 set last season. ...
Thomas Blank
pitched 9 2-3 innings this season and has allowed only one single earned run. ...
Carlos Nepomuceno
set a new career-high with 18 runs scored and 14 walks drawn. ...
Saentis Zeller
set a new career-high by getting 18 walks. His 14 RBI's are the most since collecting 15 in 2005. ...
Thomas Burger
set new career-highs for at-bats (60), runs scored (14), hits (15), total bases (15), RBIs (8), walks (11), strikeouts (15), batting average (.250) and on-base percentage (.355). ...
Gabriel Holguin
's 17 runs scored are the most since he joined the Challengers. ...
Patrick Maier
set new career-highs with the Challengers in hits (17), doubles (3), total bases (20), RBIs (11), walks (13), batting average (.270), on-base percentage (.380), slugging percentage (.317) and OPS (.697). ...Martinez set a new career-high with a .400 batting average. ...The 263 runs scored are the most since 2009 when the team scored 287 runs. ...The 70 walks allowed are the second-best mark in franchise history, only trailing the 66 BBA in 2015.