NLA Spiel 21, Sep. 06, 98
1
2
3
4
5
6
7
R
H
E
Challengers
0
2
1
0
0
2
7
12
17
2
Frogs
0
0
0
1
0
0
0
1
6
3
W: Räber L: Wiedmer
Challengers 12, Frogs 1
The Challengers avenged their 4-3 loss in Game 1 of this year's Playoff Semifinals with a convincing 12-1 win in Game 2 against the Sissach Frogs.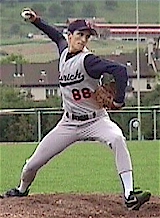 Benny Räber>
Benny Räber scattered six hits over seven innings for his fifth win of the season.
---
The Challengers quickly went ahead on two run-scoring groundouts by
Nick Lehmann
and
Armin Blickenstorfer
for a 2-0 lead.
They added one more in the third on yet another groundout.
The only run given up by starter Benny Räber came on Steve Klee's RBI-groundout in the bottom of the fourth.
It was Räber's (5-2) first complete game of the season and third in his NLA-career. He allowed one earned run on six hits and two walks while striking out a season-high seven batters.
With the Frogs trailing 3-1 in the top of the sixth, the Challengers scored two more on Bosshard's RBI-infield-single that scored
Anubis Benitez
from second base, and Armin Blickenstorfer's RBI-single. It was Blickenstorfer's fifth RBI of the day after he already collected all three RBI's in Game 1 earlier in the day.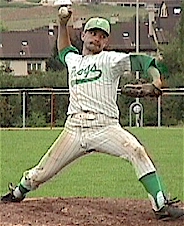 Peter Rüfenacht was roughed up for 13 hits and nine runs in four innings of relief.
---
The Challengers then blew the game wide open in the top of the seventh by sending 11 batters to the plate and scoring seven runs for the final score of 12-1.
Jose Moncion Valdez, who didn't play since June 27th, led off the inning with his fourth homer of the season.
Three batters later,
Roger Brunner
followed with an RBI-single, and Benitez connected for his third double of the game, giving him 14 on the season.
Benitez then scored on a defensive misplay of
Patrick Bosshard
's bunt.
Bosshard was caught stealing second for the second out, one of numerous dubious calls at second base that led to a little discussion by Challengers manager
Marvin Moore
with home plate umpire Beat Senti.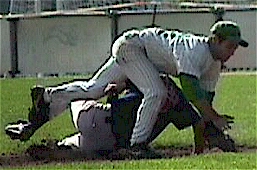 Several dubious calls on 2nd base affected the flow of the game, but certainly not the outcome of it.
---
Armin Blickenstorfer doubled and catcher
Bryan Shemley
batted him in with a single.
Saentis Zeller
followed with a double to put runners on second and third, and Valdez batted both runners in with his fourth double of the season and second extra-base hit of the inning.
Benitez's 14 doubles this season set a new Challengers record for most doubles in a season. Zeller and
Thomas Landis
held the previous record of 12 until today.
The Semifinal series is now tied at one apiece, with Game 3 being played next Saturday at the Heerenschurli in Zurich.