NLA Spiel 8, Jun. 07, 98
1
2
3
4
5
6
7
R
H
E
Challengers
2
1
2
2
0
3
0
10
8
3
Rainbows
0
0
0
0
1
1
1
3
5
4
W: Valdez L: Savoldelli
Challengers 10, Rainbows 3
The Challengers scored seven times in the first four innings while allowing none and went on to winning the second contest of Sunday's doubleheader against the Rainbows in Embrach.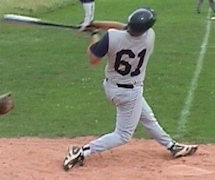 Armin Blickenstorfer>
Pinch hitter Armin Blickenstorfer misses a high pitch for strike three.
---
The Rainbows sent Roger Savoldelli to the mound to start the second game after he already tossed four innings in Game 1.
The first two batters,
Gary Kochlefl
and
Anubis Benitez
, promptly got on and eventually scored for a 2-0 lead after the first inning.
Bryan Shemley
, starting in place for injured
Nick Lehmann
who is day-to-day, scored in the second inning on utility man
Chris Palatinus
' sac fly to right field.
Anubis Benitez' second homer of the season made it 7-0 in the top of the fourth.
Benny Räber
, making his first start of the season, pitched 2 2-3 innings of no-hit ball, allowing no runs to score, but was nevertheless lifted for
Jose Valdez
after giving up his third base-on-balls.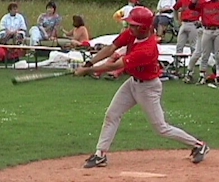 Steve Height connects for an RBI-single that scores the Rainbow's first run of the game in the bottom of the fifth.
---
Valdez, who earned his second save of the season in Game 1, continued to master the 'Bows over the next three innings, giving up only two earned runs on three hits and one base-on-balls for his first win of the season.
He was relieved by Benitez in the bottom of the sixth with two outs.
Manager
Marvin Moore
also brought in Lehmann to give him some playing time, and he responded by singling in his only at-bat to raise his team-leading batting average to .522, two points ahead of
Saentis Zeller
who was absent for the two games.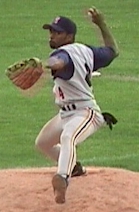 Anubis Benitez finished out the game, facing just six batters in 1 1-3 innings.
---
Thomas Landis
grounded out four times to first baseman Bruno Hubler and finshed the day going 1-for-7, lowering his batting average from .500 to .419.
Gary Kochlefl tied Benitez for the most doubles at five apiece, but Benitez collected three RBI's that put him into the lead ahead of Landis (15), Zeller (13) and Valdez (12).
Räber lowered his ERA to 2.57 in seven innings pitched.
Next stop for the Challengers will be the Bern Cardinals, whom they shut down 18-6 and 12-9 on May 23.