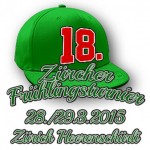 The traditional Zurich Spring Tournament will be also in 2015 the last test for the Zurich NLA-Teams before the start of the Swiss championship 2015. The tournament will take place on March 28 and 29 at the Heerenschürli ballpark in Zurich-Schwamendingen.
In addition to the hosting Zurich Barracudas and Zurich Challengers the Herrenberg Wanderers (German Verbandsliga) will participate at the 18th edition of the tournament. The starting grid will be completed by the Dominican All Stars, a team with a lot of well-known players from Latin America.
The games start on Saturday at 11am and on Sunday at 10am. The final will take place on Sunday at 2.30pm.
For further informations go to Spring Tournament