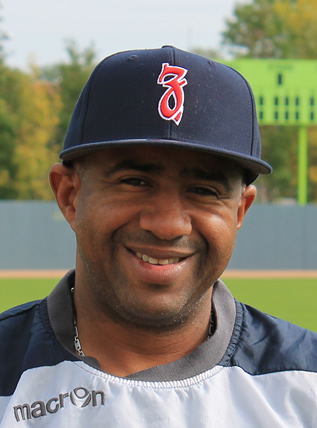 Schlaghand: R
Wurfhand: R
Grösse: 175 cm
Gewicht: 75 kg

Geb.: 20.04.1973 in La Vega, DOM
Alter: 48
20.10.2018
Holguin set new career-highs for runs (24), doubles (4), walks (8) and strikeouts (23).
13.10.2018
Holguin played his 100th game for the Challenegrs in the NLA.
01.09.2018
Holguin struck out for the 50th time with the Challengers as he struck out swinging against Chris Horne of the Therwil Flyers in the first inning.
13.07.2018
Holguin scored his 50th run for the Challengers as he crossed the plate on an infield error in the fifth against the Zurich Barracudas.
06.05.2018
Holguin collected his 50th RBI in the NLA with the Challengers as he plated Bryan Shemley on a run-scoring fielding error in the fourth inning against the Wil Devils.
30.09.2017
Holguin's 17 runs scored are the most since he joined the Challengers.
11.06.2017
Holguin collected his 50th hit with the Challengers in the NLA with a single in the second inning against the Bern Cardinals.
10.12.2016
Holguin was honored as the 2016 MIP at the Challengers General Assembly at the restaurant Linde Oberstrass. He batted .366 with 34 hits, 23 RBI's, 14 runs scored and a .413 on-base percentage.
---
NLA Kader: