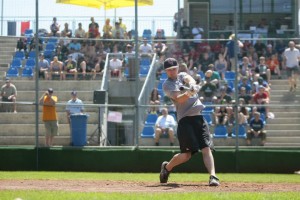 The Challengers Baseball and Softball Club is proud to introduce Clayton Carson as their new head coach for the 2015 season. He will arrive in Zurich on Tuesday and will run his first practice on Wednesday.
The 32-year old Newport Beach native worked as a coach for the Saddleback Community College from 2008 to 2011 and for the Southern Utah University in 2012. In 2014 Carson was the playing coach of the Hard Bulls in the Austrian Baseball Bundesliga, where he was batting .429 Avg. with 9 doubles, 3 triples, 1 homerun, 19 RBI's and 16 runs scored. He also played for the San Diego State College and won the Alaska Baseball League title with the Mat-Su Miners in 2004.
Carson will be the Challengers head coach and play infield for the NLA-Team. He will run the NLA- and NLB-Teams and will also work with the Juniors. He will make his debut for the Challengers on April 26 against the Luzern Eagles at the Heerenschürli ballpark.